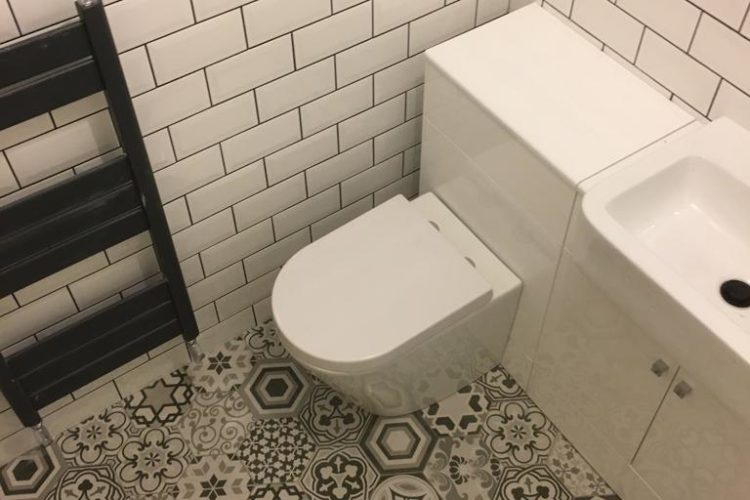 If carried out by professionals, the bathroom renovation is usually a 4 to 5 days process. There are 4 main stages in this process as follows:
Firstly, stripping out of your old bathroom. This is a messy and noisy stage of the project and it should involve cleaning and preparation work. If you are renovating only the bathroom, the rest of the access should be protected to avoid unnecessary expenses.
Secondly, preparing all the walls and floors for tiling. This is most likely a necessary process because, in the stripping out process, some of the existing boards will get damaged. This stage will also include plumbing and electrics. The bath and shower tray should be installed in this stage as well. It is very important to replace damaged timbers and replacing plasterboard with a waterproof board. Thanking will be the next step in this process using a  tanking system applied to the bath or shower area.
Thirdly,  the tiling process is a one or two days job depending on the tiles and the surface you want to tile. Apart from the suite, tiles are the most important part of the bathroom. The tiles will make a big difference in the end. When you are buying tiles make sure you add an extra 10% for waste. It is good to consider that, the bigger the size tile, the more waste you are going to have. Color and size are important depending on what you what to achieve. If you want to make your bathroom look bigger go for a larger tile, and more importantly a brighter color.
Fourthly, the last day work will be the fitting of your bathroom suite, cleaning up and removing all the rubbish.
Our service
We at quality renovation, offer a very professional bathroom renovation service, and with our cost calculator, it is easy to get an estimate on how much your remodel will cost.